Welcome to the Project Nephilim Wiki!
A wiki covering the Project Nephilim series including Hence These Tears, Salvation and Paracelsus that anyone can edit!
This page helps you stay up to date with what's happening.
We've got lots to do! Salvation ended its run on December 15th, 2011. So if you are a fan of the series please share your knowledge and passion to help us build this wiki.
The Series Finale was thick with plot developments and revelations. Help us update the individual pages to include new information and theories.
Flesh out the Character Pages!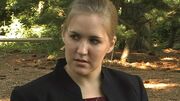 Adenine Perry
Adenine was first mentioned briefly during the events of
Hence These Tears
when
Francesca
comments that she and John dated prior to
Alisson
. The reasons for their breakup aren't explored but they seem to have a close friendship at the end of Salvation. She further expresses concern that the course of action they are taking will force Cryter's hand and ultimately endanger his family...
READ MORE
.